It is a wonderful thing to be able to start the year with weather and words that are crisp, refreshing, new. This is the energy coming forth in prose poetry from Massachusetts based artist, Sawako Nakayasu, and here we are treated to her English and Japanese language versions for two pieces here from her latest work. Her writing allows us to savor, with amusement and wonder, the placement and meaning of characters in the abstract, and emerge renewed. Happy New 2022, folks. Enjoy!
— traci kato-kiriyama
* * * * *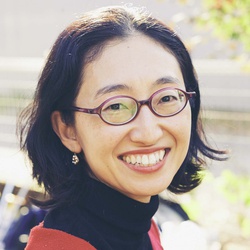 Sawako Nakayasu is an artist working with language, performance, and translation—separately and in various combinations. She has lived mostly in the US and Japan, briefly in France and China, and translates from Japanese. Her newest book is Some Girls Walk Into The Country They Are From (Wave Books), and forthcoming books include Pink Waves (Omnidawn), and Settle Her (Solid Objects). Her 2020 pamphlet with Ugly Duckling Presse, called Say Translation Is Art, has been translated into Dutch and will soon be available in Korean.
Girl Soup
I get tired of being the one to make all the decisions so when they ask me where I want to eat, I say that I don't care, I'd eat anything at this point. Next thing I know, I am face-to-face with a bowl of Girl Soup and I just can't bring myself. Some of us at the table are in a hurry to eat the soup, they are specifically trying to eat the girls quickly because they seem to know that if you wait too long they turn into cyborgs or robots, and those are harder to chew. I can see that some of the girls are still alive and perhaps would like to be extracted from the soup, but when I squint I see that there are girls all over the floor with varying amounts of soup clinging to their clothes (you didn't think they were naked, did you?) and so there goes that idea. Just at the moment I think I have run out of options, something comes over me and I take a deep breath and I do it, I jump right in there, that bowl of Girl Soup, no one is checking IDs or questioning my size or gender or race or voter affiliation, and I quick round up all the girls in the bowl into a large huddle. We have now obliterated two major problems: huddled together we are too large to eat, and also we've taken care of the problem of the eater.

Ten Girls in a Bag of Potato Chips
Fight over who gets which chip, as if there were no more than ten chips in the bag. There are more than ten chips in the bag.
Girl A assumes that the bigger, the rounder, the better. Girl G believes that the beautiful ones should choose first. Girl C makes a bid for lung capacity. Girl J sees that the sharp edges of the less round, more imperfect chip might come in handy one day. She remains quiet. Girl I says no.
Only Girl H takes note of the fact that the crispness of the chips is proof positive that the container, I mean the bag, that they reside in, is airtight. Only Girl H has a feeling for her true position within the global economy and food supply chain and how it affects the likely outcome of their collective fate. She has trouble deciding whether to speak, slap, or remain silent.
From Some Girls Walk Into the Country They Are from (Wave, 2020). Reprinted with the permission of the author. All rights reserved.