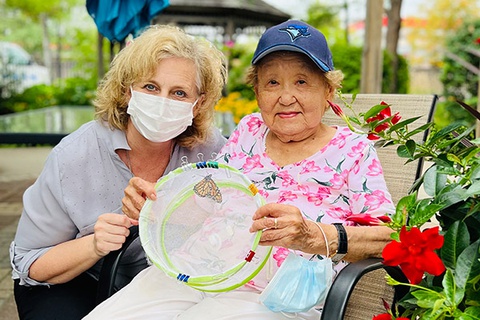 TORONTO — On a hot summer afternoon, in the cool shade of the gardens at McCowan Retirement Residences, a group of seniors gathered, buzzing with excitement as they prepared to release newly-hatched monarch butterflies. One at a time, they held the butterflies carefully by the wings, and when they let go, they flew up into the sky and out of sight. When it was her turn, Pat Adachi delicately let go of the monarch, where it decided to rest on her hand instead.
"I'm not a nature person. As a kid, we lived in the city all the time, in Vancouver. But I became interested when I saw the butterfly flying around, and I thought that came from the caterpillar," says Adachi, a Governor General Meritorious Service Award recipient and author of Asahi: A Legend in Baseball. "I thought, well, only God can make this kind of miracle. And then Mary brought me outside to release the butterfly and said, make a wish. That really hit home."
Releasing the monarch butterflies is part of a program at McCowan Retirement Residences, organized by Lifestyles Manager Mary McIntyre-Rafter. Seniors care for a delicate chrysalis until a monarch butterfly emerges, which they release in the garden.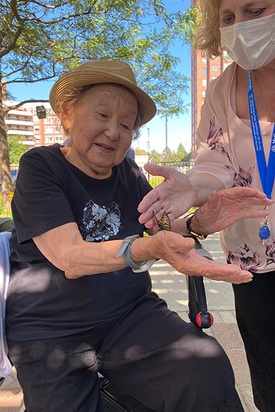 "Some residents will release the butterfly in honour of someone who has passed away, or they will release it with a wish and a thought. It's just such an intimate connection with nature for them that I love to watch each year," says McIntyre-Rafter.
McIntyre-Rafter has run the monarch butterfly program at the residences for the last four years. Last year they raised 86 butterflies, and the year before, 102. McIntyre-Rafter has raised monarchs for 15 years, and before working at McCowan Retirement Residences, she worked at a school and taught children about the butterflies.
McIntyre-Rafter collects the monarch eggs from the backs of leaves in the gardens at the retirement residence and her home. She cares for the eggs as they hatch into caterpillars and then cocoon themselves in a chrysalis. Then she puts the chrysalises into plastic containers (with air holes) and gives them to seniors to care for in their rooms, where they eagerly wait for a butterfly to emerge.
McIntyre-Rafter tags the butterflies with a small sticker with a serial number, which she registers online with Monarch Watch, a non-profit research project out of the University of Kansas. As the butterflies migrate to Mexico, others who are part of the project can report on the website where and when they saw the butterfly.
This July, migrating monarch butterflies were added to the International Union for the Conservation of Nature's endangered species list due to their dwindling populations. The monarchs face a loss of habitat due to extreme weather and the increased use of pesticides in agriculture. Monarchs primarily eat milkweed, seen as a weed, especially in monocrop farming. McCowan Retirement Residences has been growing milkweed in its garden for the butterflies to eat.
Beyond education, the program is a way for residents to reconnect with nature, which often sparks memories of their childhood, says McIntyre-Rafter. There was a bubbling joy among residents as they gathered in the garden, anticipating the butterfly release. Residents, family members, and staff would excitedly peek at the butterflies and ask questions.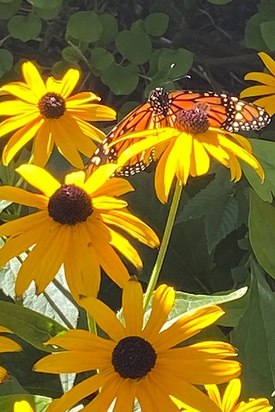 "They've talked about growing up chasing and catching butterflies during this program, and it's wonderful to be able to witness the circle of life in a butterfly and reconnect to nature in that way," says McIntyre-Rafter.
For Adachi, the program sparked bittersweet memories from her past. It reminded her of when Japanese Canadian families arrived at the internment camps with no schools or programs for the children. Adachi was 21 and had lost her first baby in the cold winter when educator and activist Hide Hyodo Shimizu asked her to teach first grade in the Popoff.
"Hide came to me at the end of December [of 1942] and said come and teach. I said I've never even taught Sunday school. And she said you'll do," says Adachi. "And she gave me a grade one class, 25 kids. They're so precious, and it hit me—these are the kids we're responsible for, how they developed, we had a lot of responsibility, and we never taught before. But every year, the [children] had to take a government exam to pass on, and I guess we did alright because they all passed."
Despite the hardships of that first year, teaching the first grade was one of the most rewarding experiences of her life, says Adachi.
Both Adachi and McIntyre-Rafter encourage other seniors' homes to try the program. Along with the memories sparked and the joy and wonder from seeing the beautiful transformations between life stages, the program is a way to get seniors out of their rooms and into nature and learn something new.
Adachi, who turned 102 this August, says, "Even if you go back to school and graduate, don't stop learning. Every day you can learn something new."
*This article was originally published in Nikkei Voice on September 21, 2022.