Last Saturday, I was saddened to learn of the passing of the esteemed historian Roger Daniels at 95 years old. To say that Daniels helped shape Japanese American history would be a real understatement. Over the course of his five-decade career as a historian at UCLA and the University of Cincinnati (among others), Daniels wrote or edited dozens of books relating to Japanese Americans and to their World War II incarceration. Many of his works, such as his provocatively-titled Concentration Camps USA, coincided with the Asian American movement and inspired readers to see the camps not as benevolent "relocation centers," but as sites of mistreatment and injustice.
What is more, Daniels played an important role in the Redress movement. Like Michi Nishiura Weglyn and Aiko Yoshinaga-Herzig, Daniels contributed crucial testimony and documentation of government wrongdoing that helped overturn the longstanding myth that the incarceration of Japanese Americans from 1942 to 1946 had been justified by "military necessity." My purpose in writing this piece is not just to address Daniels's career and accomplishments. Rather, I want to testify to Roger Daniels's generosity as a scholar and kindness as a mentor, who personally influenced my writing and vision of history in the course of a series of regular telephone conversations that I had with him over a two-year period.
I first called Roger in October 2020. As a young graduate student, I was nervous at the idea of speaking with one of the pioneering figures of Japanese American history. My friend Greg Robinson encouraged me to nevertheless reach out, describing Roger as generous with young scholars and saying that he would welcome a call. To prepare, I watched an interview between Daniels and Harry Kreisler of UC Berkeley on Youtube to familiarize myself with his personality.
I was awed by his wisdom and fierce dedication to the profession. He boldly stated that any good historian should have "sitzfleisch," a German expression that refers to someone who has both the muscles and patience to sit down for long periods of time and work diligently. He also made a telling joke about how Green Cards are actually pink, an analogy for how, in immigration studies, nothing is what it seems to be (I soon learned that this was part of his trademark dry humor, which many can attest to).
Strangely enough, when I did call, one of the first things we talked about was not history, but rather his love of the Manchester United soccer team and his disappointment in their losing a recent match. Gradually, though, we began to focus on topics related to his life and about the larger state of the historical profession.
Several stories from our conversations still stick with me. One of the most memorable was his debate with the former Assistant Secretary of War John J. McCloy, on the CBS Sunday Morning program on June 20, 1983. Daniels said that he was invited to respond to a television interview with McCloy, who was by then 88 years old and who had publicly opposed Japanese American redress. Daniels prepared himself by reviewing McCloy's statements, in order to catch him in a contradiction on the question of military necessity. The plan worked, and Daniels later said that McCloy felt sandbagged following the interview.
During one of our calls, I asked Roger why he first decided to write about the Japanese American incarceration. While we talked about the larger moral and constitutional failures related to the policy, he later told me of a more immediate set of events that had piqued his interest.
In 1945, at age 17, Daniels had moved to New York City in search of work. As a young labor activist and journalist, Daniels had proceeded to work on several initiatives, notably organizing protests outside the Dutch consulate at Rockefeller Plaza to support Indonesian seaman. The Indonesians had sought refuge in the U.S. following the outbreak of the Indonesian War of Independence, hoping to avoid being forced to work for the Dutch government against their countrymen, but faced deportation under the Asian Exclusion Acts. (This story was recounted by Greg Robinson some years ago in his Nichi Bei Weekly article on the incarceration of Indonesians in the U.S.).
Meanwhile, the young Roger attended a party where he met a Japanese American from the camps who had resettled in New York City. When he asked the Japanese American if he was from Japan, he said no and that he was an American who had been held in a concentration camp. Daniels said he thought the man was lying, thinking that such a story was too fantastic to believe.
Eventually, he went to the New York Public Library and discovered an article in Harper's written by Carey McWilliams that detailed the facts of the incarceration. Shocked to see that the man's story was true, Roger began to dig deeper as to why the incarceration happened. Sixteen years later, his curiosity paid off in the form of a dissertation on the anti-Japanese movement in California. Published in 1962 as The Politics of Prejudice, it remains an influential text in immigration studies.
In addition to hearing his stories during our phone conversations, I asked Roger for advice on several occasions. The first time, I approached him for feedback on my Densho encyclopedia entry on Colonel Verne Austin, the commandant at Tule Lake during the martial law period. Because his eyesight was declining, Roger diligently listened as I read him the draft of my entry, and he in turn provided incisive feedback on how to improve my description of Austin and his role in creating the chaos at Tule Lake.
Later, I told Roger that I was writing a biographical column on Seattle Catholic priest Leopold Tibesar. Roger, delighted I was taking on Tibesar's story, told me he felt that Tibesar's legacy as a champion of the rights of Japanese Americans was under-appreciated by historians. Although several other Maryknoll priests trekked to various camps to check with their congregations, he reminded me, Tibesar had been the only priest to live among his congregation at Minidoka. Roger encouraged me to write a full-length biography of Tibesar, and advised me to visit the Maryknoll archives in Ossining, New York in search of information.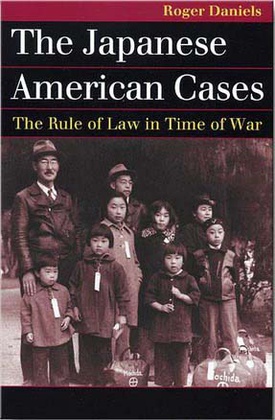 Earlier this year, I asked Roger for advice on my articles on Judge William Denman, one of the first judges to dissent on the cases of Korematsu vs. U.S. and Hirabayashi vs. U.S., who was later appointed as Chief Judge of the 9th Circuit Court. Roger gave me essential feedback, instructing me to read his 2013 book The Japanese American Cases as a useful source. Alongside Peter Irons's Justice at War, Roger's The Japanese American Cases proved to be essential text for understanding the four Supreme Court cases that challenged Executive Order 9066 and the laws that enforced the incarceration.
After reading his book, I came away with both a greater appreciation for the cases and Denman's own role in certifying cases to be brought before the Supreme Court. With the help of Roger's daughter Sarah, I sent drafts of my article on Denman to Roger to read. His commentary proved essential, and as I continue to write an expanded biography of Denman's legal career and his impact on civil rights law, I am guided by Roger's advice.
It is hard to capture the life and accomplishments of any one individual in a short text. Roger certainly makes such a task nearly impossible—a testament to his achievements as both a scholar and an individual. Although I only became acquainted with Roger Daniels in the last two years of his life, in that time he reminded me of why being a historian matters and the ways in which scholars can make a change in the world outside of the academy. I was fortunate to profit from his mentoring, as so many have before me, and also to talk to him on a personal level. Roger's legacy, both in the books that he published and the mentoring he offered to generations of scholars, will live on.