The distinguished historian Roger Daniels died on December 9, 2022. In the past days, I have taken a lot of time to reflect on how he influenced me, both professionally and personally.
I first met Roger in January 1998, at the annual meeting of the American Historical Association. I was then at a crucial crossroads in my life. A year earlier, after quitting graduate school and abandoning in the process a half-finished dissertation, I had uncovered intriguing and disturbing evidence of Franklin Roosevelt's race-based hostility to Japanese Americans during the 1920s, when he had endorsed Asian exclusion to protect white "racial purity" against interracial marriage. I wondered how his earlier attitudes shaped his signing of Executive Order 9066 as president 20 years later. As an independent scholar, I put together a panel with some colleagues, then went to the AHA to offer the first discussion of my findings.
When I read the AHA program, I was thrilled to see that Roger Daniels was listed as a presenter. I had read and admired his books, especially Concentration Camps USA. Taking my courage into my hands, I went to his session. I remember that I asked a friend how I would recognize him, and was told, "He's the man with the bristling haircut and pointed beard who looks like something out of Bismarck's Germany." I went up to Roger and rashly invited him to attend my panel. I was both delighted and nervous to see him in the audience at my session. After it finished, I thanked him for attending. He politely corrected me on a few small points, then said that I had an interesting topic. He stated diplomatically, "I don't think you've put a foot wrong."
Roger's positive words helped solidify my determination to return to school, and I began writing a dissertation on FDR and the Japanese Americans. I next saw Roger the following September, at a conference at Willamette University. There I joined forces with my mother Toni Robinson to present a paper on the conflict between Franklin and Eleanor Roosevelt over Japanese Americans. I talked to Roger and found him less formal and more cordial than in Seattle. As a fond parent himself, he may have been pleased to see me working in the company of my mother and father.
In the years after those two meetings, I completed my dissertation, then transformed it into my first book, By Order of the President. Before it was published, I sent Roger the manuscript. He let me know kindly but frankly that he did not agree with my conclusions, and could not endorse my work. However, he informed me that he still thought that the work deserved to be in the literature, and would not seek to block its publication or oppose it publicly. I knew that Roger could be an acerbic critic in book reviews, who did not mince words when slamming works he disliked, so I was grateful for his forbearance.
The next time I met Roger was in Boulder, Colorado, at a conference that he and Max Paul Friedman organized on wartime incarceration. Despite Roger's reservations about my book, I admired him and was hungry for his approval, so I was touched to be invited. Roger praised the paper I gave on Socialist Party leader Norman Thomas and his opposition to Executive Order 9066. There was a funny moment at dinner afterwards. I was seated between Roger and the veteran writer and JACL activist Bill Hosokawa. Roger took the opportunity to explain to me his objections to my book. Hosokawa, who was a fan of my work, overheard our dialogue and interjected some praise. When Roger demurred, Hosokawa said, "Don't you agree that Greg's book is exhaustively searched?" Roger bristled slightly and retorted, "Of course—Greg is an archive rat!" I gladly took this response as a sign of his respect.
Over the next few years I had some email exchanges with Roger and saw him at several conferences. For example, I invited him to join a panel I organized on "ethnic cleansing" at the 2004 annual meeting of the American Studies Association in Atlanta. He wrote me that despite our differences of opinion, he was impressed by my knowledge and energy. Fate soon intervened in my favor to change our relations. In fall 2005 Roger and his wife Judith took a cruise whose final port of call was my hometown of Montreal. When I learned that Roger was coming, I took the opportunity to invite him to lecture at my university—my students adored him.
That evening, my new husband Heng Wee joined me in escorting the Danielses to dinner. Roger and Judith had a lovely chemistry. I was pleased to see the tender man underneath the curmudgeon that Roger often played in public, and I found Judith vivacious and warm. They took a particular shine to Heng Wee. Indeed, we clicked so well as a foursome that the Danielses proposed we visit them in Seattle, where they had settled after retirement.
Thus, over the next ten years, I would visit Roger and Judith whenever I was in Seattle. At first, Roger informed me with (mock?) solemnity that I would not be allowed in their house without my husband. While they did later admit me during my solo visits, I noticed that Roger always greeted Heng Wee with hugs, whereas with me he preferred to shake hands. During these visits, we chatted about our lives or discussed books and movies. Roger and I almost never talked shop, though on one occasion we got into a historical debate that was sufficiently vociferous that Judith finally said, "Neither of you two is going to convince the other—you might as well drop it!"
After our chats, Roger and Judith would cook dinner or take us out to eat. One time, Judith made a tasty beef brisket. I was delighted, as I had not eaten home-made brisket since the deaths of my beloved mother and grandmother. After that, Judith made a point of cooking brisket whenever I came to dinner, a motherly kindness for which I was profoundly grateful. There were other signs of the Danielses' regard. We were put on the email list for their annual new year's letters. Roger also expressed repeated concern over my heavy travel schedule, and warned me, "You're not a kid anymore. You must learn to slow down."
Even as I maintained a personal connection with Roger and Judith, I kept up professional relations with Roger through email. I would send him documents or writings that I thought would be of interest, or ask him for information. Roger gifted me several books he owned about Eleanor Roosevelt when I began researching her career. Roger also generously volunteered to write me letters of support for grants.
In early 2008, Roger told me that he would love to have me do a book for his Asian American book series at University of Illinois Press. I proposed an anthology of writings by Larry Tajiri, the gifted activist editor of the wartime JACL newspaper Pacific Citizen. Roger expressed interest, but told me that I should add a section of writings by Guyo Tajiri, Larry's wife and coeditor, whom I had known at the end of her long life. It was such a great suggestion that I was abashed at not having thought of it myself. Roger proved a hands-on editor, and I appreciated his comments on the text. The Tajiri project eventuated in my 2012 book Pacific Citizens. It was one of the last books to appear in Roger's series. As was his custom for all his productions, he supplied a series forward. It was our sole collaboration, and I was tremendously proud of it.
While I knew that Roger respected my work, he was always sparing in his praise. It was in 2014, at the annual meeting of the Organization of American Historians, that I had a revelation. There I attended a panel session organized by Max Paul Friedman that paid tribute to Roger's career. (In his opening speech, Max noted that such sessions were designed to honor "mid-career scholars" and wittily suggested that Roger—who was then 86—fit well into that category). Panelist Cheryl Greenberg praised Roger's generosity. To illustrate the point, she noted that Roger, the great expert on wartime incarceration, had sent her an email saying, "Have you read Greg Robinson's A Tragedy of Democracy? It is absolutely the last word on the subject!" I was flabbergasted to learn that Roger thought so highly of my book, as he would never say such things to my face. I begged Cheryl to find me a copy of the email. Cheryl responded that she was unable to lay her hands on it, but swore to me that Roger had expressed such views—otherwise she would not have told the story in his presence.
In fact, Roger's negative attitude toward my earlier work may have softened with time, although he never said as much to me. When I saw that Roger's final published book, the 2016 volume Franklin D. Roosevelt: The War Years, 1939-1945, included a footnote citing to By Order of the President, as the most detailed examination of Roosevelt's motives for signing Executive Order 9066, I felt a sense of triumph!
I last saw Roger in Seattle in 2016, by which time he was visibly slowing down. We continued to correspond until his deteriorating vision made it impossible.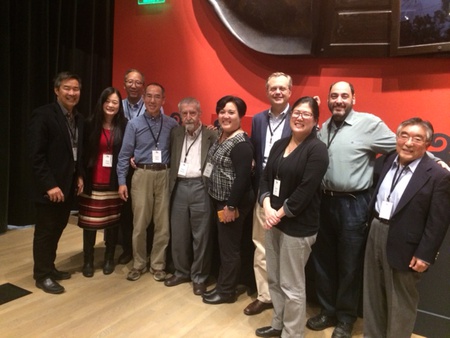 During the COVID pandemic, I learned that Roger and Judith were confined to their assisted living facility. I decided to call Roger. He greeted me fondly and we chatted for nearly an hour. I called several times more in the months that followed. I knew that he appreciated our phone chats, though I felt bad not calling more often. I last spoke to him in early fall 2022. When I told him that I would see him on my next visit to Seattle in January 2023, he responded, "Sure, if I'm still alive then." We both knew the end was near.
Roger was a remarkable man, a brilliant scholar as well as a wise and generous human being. His passing leaves me with a terrible sense of loss. I feel thankful for all the things he gave me, tangible and otherwise. As a historian of Japanese Americans, I have often in my career heard myself touted as "the new Roger Daniels." Mindful of our differing approaches, and Roger's continuing scholarship, I always used to respond that the old one was quite sufficient. Now, however, I am proud to help carry forward his legacy.