Doug Uchikura traveled the world through his job with Chevron seeking sources of energy and some of the places where he lived you may never have heard of…for example Ashgabat in the Central Asian country of Turkmenistan.
"That country was isolated from the world, it was somewhat a closed society," Uchikura recalled.
The sight of an American was so rare in such places. Uchikura agreed that in a way he and his wife Maris became ambassadors of a sort. Locals formed their opinions of America after meeting the couple.
"I think my wife was really good at that (shaping positive views of America)," Uchikura said.
His career became an interesting mix of the legal, business acumen and satisfying the world's hunger for oil and natural gas. Retired and living in Alamo, Uchikura said his labors took him to Russia and the Ukraine, the scene of today's bloody conflict. He said that there is nothing right about Russia's invasion of the Ukraine.
"All over the world, people expect a country to respect the sovereignty of other nations," Uchikura noted.
He is the son of a mixed marriage, a Japanese American father and a mother who is of Scotch/Irish ancestry.
"My grandmother was from Osaka and my grandfather from Kyoto, which at one time was the capital of Japan," Uchikura said. "My father was born in 1922 in Loomis (near Sacramento). My grandparents had immigrated to the U.S. in the early 1900's and my grandfather worked in a nursery."
In 1942 during World War II the U.S. Government decided to remove and imprison 120,000 mostly American citizens of Japanese ancestry living along the West Coast including women, children and the elderly for alleged disloyalty. Uchikura's family was sent to Tule Lake War Relocation Center in a remote area of Northeastern California.
The concentration camp, one of a dozen major camps scattered throughout the desert southwest, was considered a prison for troublemakers, those who protested their illegal imprisonment or refused to sign a loyalty oath.
"At the time my father (Donald Uchikura) had just graduated from a junior college and was class valedictorian," Uchikura said. "Before he could give his valedictorian speech he was imprisoned."
After the war and release his father moved to Ohio where he met and married his wife Carolyn, an Anglo woman. Mixed marriages at the time were rare.
"It was something of an anachronism," Uchikura agreed.
His father achieved a degree in biological science and became a medical lab technician while his mother served as a nurse at Mercy Hospital in Hamilton, Ohio, where Doug Uchikura was born.
"Eden Hospital (Castro Valley) offered my dad a job which brought us to California," Uchikura said. "I was just over one year old, and my father became the head of the (hospital) lab. He was in that position for 35 years."
The family moved to Hayward where Uchikura grew up. He said that his father rarely spoke about his experiences as a prisoner in the Tule Lake Camp during World War II, to Uchikura or his two brothers.
"He said that was his issue and not ours," Uchikura recalled. "There were some demonstrations among people trying to get financial reparations (monetary damage payments) and he said, 'I don't want you involved.' It was an injustice but it happened to him. He wanted me to go forward and concentrate on my own life and career."
Later, Uchikura's father visited local schools where he taught fifth graders about the history of the camps.
Uchikura attended Moreau Catholic High School in Hayward and California State University East Bay where he got an undergraduate and then a master's degree in business. He followed that with a law degree from Santa Clara University.
"I knew a female friend working for Chevron who arranged an interview for me with the company," Uchikura said. "This was in 1979. I was hired as a lawyer and became involved in what is called the 'upstream' part of the business, exploring for oil and gas. I was working on offshore California oil projects (Santa Barbara) and then out of an office in San Francisco."
In 2000 the company sent Uchikura to Moscow, Russia.
"We had a pipeline project and there were many companies and governments involved," Uchikura said. "They were getting ready to open a pipeline that would run from Kazakhstan (Southern Russia) to a port of Novorossiysk (Black Sea). The project was successful. Russia was one of the (pipeline) partners."
Uchikura was joined in Russia by his wife Maris, who had retired after being a dental technician for 25 years.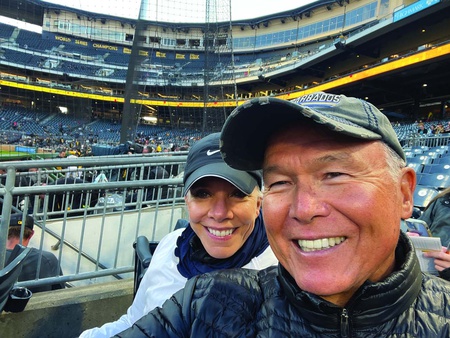 "We lived in an apartment just a block from the Kremlin (seat of Russian Government)," Uchikura said.
The couple lived there for three years.
"The Russian people were decent to us," Uchikura said. "But their government officials had their eyes on us. We had to be careful. I'm sure we were being watched."
Chevron called Uchikura back to the U.S. where he worked in San Ramon for four years and then in 2008 the couple was sent to Turkmenistan. On its southern border were the countries of Iran and Afghanistan.
"This was a business development project and we were looking to see if we could produce a natural gas facility," Uchikura said. "But nothing happened."
The project failed to materialize.
Uchikura said Turkmenistan was a very different experience than Moscow. It seemed a more isolated and closed-off place. Women had a secondary status.
"It was a Muslim country, and a man's world," Uchikura said.
The Uchikuras were in the country for four years and then were sent to Warsaw, Poland.
"This was a project to develop natural gas from shale (oil-impregnated sediment rock)," Uchikura said. "The countries of Lithuania, Ukraine and Romania were involved. We did some exploration and sampling of wells, but it turned out to be not commercially viable."
They spent three years in Poland.
"They were very good people in Poland, very European," Uchikura said. "Poland had a western feel. We rented a house instead of an apartment. We saw a lot of Europe (side trips) from there."
He added that the people of Poland use a lot of natural gas.
When the operation in Poland closed down Uchikura said he realized it was time to return to the U.S., finish his career and retire. He retired in 2016. In 2018 he received an award as a "Distinguished Alumni" in business and economics from the California State University East Bay for his career work.
The Uchikuras have six grown children (two adopted) and 13 grandchildren.
"We have plenty to do in retirement with family gatherings," Uchikura said. "After doing so much international traveling, we travel a lot today around the U.S. We wanted to see our own country."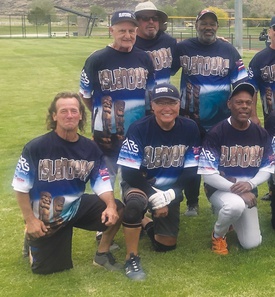 Uchikura's father has passed away but his mother Carolyn is 91 and lives in Hayward.
Uchikura said he also enjoys playing shortstop for the Islanders, a California-based softball team with a Hawaii connection.
"We play teams in Las Vegas, Phoenix and just got back from a game in St. George, Utah," he added.
Noting that playing shortstop requires quickness, Uchikura joked, "My fielding range is about as wide as my shoulders."
He likes to play golf as well.
Vladimir Putin had just been elected the president of Russia (2000) when Uchikura worked for Chevron in that country. He said he hopes and prays that Putin's invasion of the Ukraine will come to an end.
Of Chevron, Uchikura said he will always have fond memories.
"It was a great company to work for," he said.
*This article was originally published in the NikkeiWest.