Saved Land
When the Yoshioka family left their farm in San Jose for Utah then Colorado, they could only take what they could carry.
"We didn't have much," said Thomas. The rest of their belongings, which included their expensive farm equipment, had to stay back at the farm. Thankfully, the Yoshioka's had leased their land from a very generous owner named Frederick De Meza.
"Mr. De Meza," as he's affectionately called by the Yoshioka's, agreed to not only hold on to their farm equipment when they escaped California, but also held on to the land that was leased. So for three years of staying away, unsure of what the future would hold, De Meza held on to everything for them. When the Yoshioka family returned, De Meza leased the land back and returned their equipment.
"He was good," said Thomas, nodding his head, recalling a memory he had as a boy when De Meza who, while milking a cow, once playfully held up one of the cow's teats and proceeded to squirt him.
"At that time, most Japanese farmers were not able to own any land," said Jim. "Luckily, because of the kindness of Mr. De Meza and his family, we could start over again."
The Yoshioka's then "paid it forward" by providing their farm as a stopping point for Japanese American families returning to San Jose who were recently released from internment camps and needed a temporary place to stay to plan their next move. The Yoshioka brothers were then able to save and borrow enough money to buy their own piece of land in west San Jose and later south San Jose, where Jim grew up and has memories of their family's cherry orchards and chrysanthemum nursery.
"I remember you watering the chrysanthemums," said Jim as he turned to smile at his dad. "I remember you putting up the black cloth, putting it up to shorten the growing time and then all my aunts would help with cutting and wrapping them up. I helped [sort] the cherries … Yeah, it was a whole family enterprise."
Thanks to De Meza, the Yoshioka family was able to pick up where they left off unlike thousands of other Japanese American families who had to completely start over. Jim said he remembers De Meza as the "nice gentleman" who was at their table every New Year's. He was the family's honored guest up until he passed sometime in the 1970s.
The story behind Kiyoko's family returning to their farmland in Cortez is just as fascinating. The Asai family actually owned their farmland, as did many other Japanese American families within Cortez, before they left to Camp Amache. The colony's founder, Kyutaro Abiko, an "energetic idealist," according to the book Farming the Home Place: A Japanese American Community in California by Dr. Valerie J. Matsumoto, was also a village peddler, banker, newspaper publisher, businessman and immigrant leader.
Abiko created three farming communities—one of which was Cortez—where tract of land were sold to Japanese immigrants who moved to the San Joaquin Valley in California. Though the state law at that time barred Japanese immigrants from owning land, Abiko and his constituents found a loophole and put the pieces of the land in the name of the Issei's children, the Nisei, who were born American citizens. The Issei then created a corporation under their Nisei minor, served as an officer of the corporation, then when the Nisei became of age to own the land, the corporation that was created under their name was dissolved.
"It's quite incredible," said Jim regarding his mother's family's history in Cortez. He then shares that while his mother and her family were interned, they, and the entire Cortez community, actually had tenants on their land, a board of trustees, an advisory board and an operations manager who helped manage the farm while they were gone. Jim was moved to learn that some of those who helped "look after" the Cortez farmlands were nearby neighbors and friends who were "sympathetic" to what was happening to the Japanese American community. A reminder that not all citizens agreed with the internment of Japanese Americans.
"So many from that community survived and were able to prosper because they had that community support to come back to," said Jim, as he holds up the book by Dr. Matsumoto, who interviewed and referenced the Asai family, among many, in her research. "It was still hard and still tough but because they had that kind of support from the community, it was easier to transition … And since people were all in this collective, they were all working together. It was in numbers and their organization and the community's cultural strength that got them through the horrible times."

Post-War
Jim says his and his family's life after the war was "very fortunate" compared to many others. Thomas obtained his bachelor's degree in commerce from the University of Denver, which, if he were interned, would not have been possible. He met Kiyoko in the late 1950s while on a blind date in San Francisco. Thomas's friend, who was dating Kiyoko's friend at the time, set them up on a double date. "And that is all it took," said Jim. They were married in 1957 and had their two sons, Glenn then Jim. When Thomas wasn't working as an accountant, he was in agriculture. His last job was as an accountant for the Evergreen School District until he retired. Kiyoko was a typist clerk, housewife, and then an office aide at two local elementary schools. She passed away in 2014.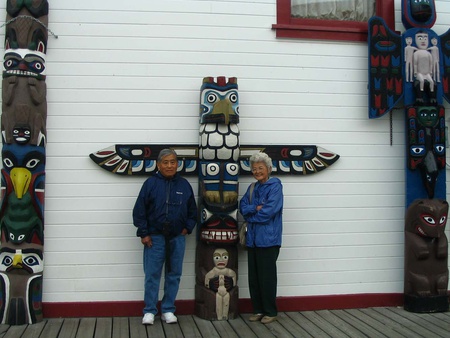 Jim was in the Japan Exchange and Teaching (JET) Programme from 1990 to 1993 and then came to O'ahu in 1994 for graduate school in, what is now, the Second Language Studies program at UH Mānoa. He's been here ever since and after discussions with his father and brother, they decided it was best for Thomas to live with him due to the pandemic and his increasing age.
Their family's story, though very fortunate compared to thousands of other families who were forced to start over after the internment camps, was not without tragedy.
Thomas's brother George, the eldest in the family who served in the 442nd Regimental Combat Team, was robbed, kidnapped, then murdered soon after he returned home from the war. Three criminals saw the amount of cash he had on hand one day when he went to deliver the family's produce to the market and kidnapped him. He was missing for a week until he was found bludgeoned to death in Stockton, California. The Pacific Citizen, a Los Angeles based newspaper dedicated to sharing Asian Pacific American news, reported that one of them was sent to the gas chamber while the other went to prison for life. George Yoshioka was 33 years old.
When the United States countered Japan with the bombing of Hiroshima, Jim said his mother's favorite aunt in Japan, Auntie Kiyomi, died in her husband's arms after the atomic bomb's blast caused shards of glass to pierce her body.
"It was war," said Jim as he shakes his head. "It was a horrible time for everyone."
He hopes his family's story about good people and communities rallying together for the sake of the greater good will be one that will be remembered and used as an example of persevering for and aiding one's neighbor during times of great need.
In commemoration of this year's 80th anniversary since Executive Order 9066 was enacted, the Yoshioka family would like us to remember that we all have stories to tell and learn from. It's from those stories we grow, learn how to better understand each other and see our common humanity.
"Maybe our experience will get people to consider the consequences," said Thomas at the end of the interview.
"Yes," said Jim as he looks at his father and nods his head. "We have so many riffs right now in this world and it didn't used to be that way. I hope that by hearing people's stories and learning about their experiences, and just trying to be good people … Hopefully that will make a difference to make things better."
*This article was originally published in the Hawai'i Herald on February 18, 2022.