This month's feature comes to us from Grand Rapids, Michigan, with selections from This Is How the Bone Sings, a poetry collection by Todd Kaneko. These pieces resonated at a gut level for me—they poke and prod, nudge and whack, muse and gnaw at our past through a present lens that is close, sometimes overwhelmingly close, to the ghosts, the land, the sentient cries. This beautiful writing points us toward Minidoka as much as it positions us firmly in the wonder of all places and people who have had to endure disappearance, silence, and reckoning. Enjoy...
— traci kato-kiriyama
* * * * *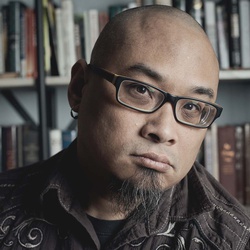 W. Todd Kaneko is the author of the poetry books
This Is How the Bone Sings
and
The Dead Wrestler Elegies
. He is co-author with Amorak Huey of the poetry chapbook
Slash / Slash
and
Poetry: A Writers' Guide and Anthology
. His poems have appeared in
Poetry
,
Alaskan Quarterly Review
,
Massachussets Review
,
The Normal School
,
Barrelhouse
, Verse Daily, Poetry Daily, the American Academy of Poets Poem-A-Day, and elsewhere. A Kundiman Fellow, he lives in Grand Rapids, Michigan where he teaches at Grand Valley State University.
CATTLE MUTILATION
In one version of the song, I was born
with a cow's head. We all were
waiting for America to disappear
us from the prairie, tired of scattering
into milk and sirloin across the grass.
In the other version, I am human,
knee-deep in the carrion, fur and gristle
over the nation's bones. I watch people
with blood on their chins. They say God
bless America. They say the animals die,
the animals spring back to life.

MINIDOKA WAS A CONCENTRATION CAMP IN IDAHO
I am afraid that all my ancestors
have gathered my words like birds
collect hair from the dead
for nesting, an abundance of silence,
whole spools of it ready to tether
me to the trees. I am a new father,
too young for ghost stories, too fresh
to remember what it was like to shiver
out on the prairie. I see my own breath,
sometimes when my son cries
at night. He doesn't have to describe
those things he fears in the dark
because my grandmother told me
the world will never be safe for us
when she refused to say the name
of that place we come from. Minidoka,
I say to him and my ancestors lay
fingers across my lips. Do not be ashamed
because we are alive, because the birds
will one day pluck us clean.

BIRTHRIGHT
Tomorrow, you will ask, where is Minidoka?
I will finish my beer and say nothing
except, it's where you left it.
My father will say Idaho,
but his mother will say, it's right here.
Everyone in our house knows
how easy it is to bring back the dead,
how an answer gnaws its way
through a boy's guts and bursts
from his throat, a wolf's howl,
a carnivorous question
posed to the sky about where we live,
about who else still lives. At night,
I will place my hand on your forehead
and feel the antelope you pursue
with your eyes closed. They are outside
the window now, listening
for your answer.
*These poems are from This Is How the Bone Sings (2020) and copyrighted by W. Todd Kaneko.