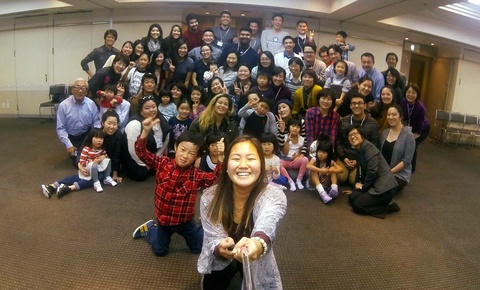 Joining the JACL
The Kakehashi program was Vini's first experience where all the participants were Asian and Pacific Islander Americans. "I immediately discovered that I felt more at home in this community than I ever had with my Japanese friends because suddenly I was in a diverse group of Americans with varying racial identities and Japanese language abilities where my background was still unique but not so 'different' as it normally was."
"After the Kakehashi trip," wrote Vini, "I longed to stay connected with my newfound Japanese American identity, but it was not immediately clear how I could do so." Initially deterred by Kakehashi alumni events and JACL chapter meetings held a 4-hour drive away, he continued participating in NC Japan Center activities. However, "the attendees were primarily first-generation Japanese immigrants and non-Japanese individuals who were interested in Japanese language and culture—not quite the same as the Nikkei diaspora I had discovered."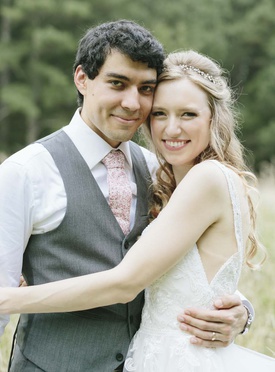 In 2016, Vini moved to Minnesota for graduate school, accompanied by his girlfriend Micaela (now his wife). With Micaela's encouragement, he joined the Twin Cities chapter of the JACL (TCJACL). "I started out by attending their events, then I was invited to their board meetings, then I was "voluntold" to help with the youth programming, and then I began having my own ideas on how to grow the chapter's already impressive efforts toward cross-cultural solidarity and social justice for all using the legacy of the Japanese American wartime incarceration experience."
"I was really enjoying working with my new community, but by 2020, I was beginning to feel like I was being stretched thin by trying to live two parallel lives. In one, I was a civil engineering student trying to make cities sustainable in an uncertain climate future. In the other, I had become an Asian American social justice organizer. I knew that both of these worlds were, at heart, about helping people. But I hadn't yet figured out how to combine the two.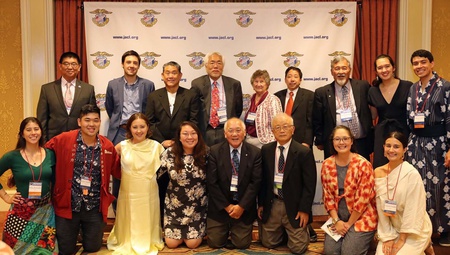 Turning Point
Vini recalled the exact date his work with the TCJACL suddenly became more urgent.
"As Micaela and I enjoyed the COVID-safe bicycle trip and picnic she had planned for us on my birthday, May 25, 2020, I had no idea that just across town, in front of squad cars reading 'To Protect With Courage… To Serve With Compassion,' an officer of our city's police department decided to murder fellow resident George Floyd while three of his colleagues helped him. To say that nothing would ever be the same was an understatement. Finally, the world had watched together a cold-blooded, modern-day lynching in broad daylight and could no longer deny what BIPOC communities have always known: there is systemic racism in the US, and the consequences are lethal."
"At first, I didn't know what to do. I went through the same stages of shock, anger, and the need to do something that catalyzed a global racial justice movement under the 'Black Lives Matter' banner."
Amy Dickerson, the TCJACL chapter president asked Vini with putting together a statement condemning George Floyd's murder and working with the national JACL at their request on a statement for release. Vini, along with Micaela, crafted a statement addressed to Minneapolis Police Chief Medaria Arradondo and Mayor Jacob Frey calling for justice for George Floyd. "I had never done anything like this before, and it was far from perfect, but it was an important step in the direction of publicly aligning our organization in an anti-racist way directly supporting Black communities."
But rather than just add another voice to the chorus of outrage over the murder of George Floyd, the TCJACL developed a workshop that would channel outrage into action. Vini wrote, "Amy suggested we develop a workshop that would help our membership understand what was going on and how we could help. Another TCJACL member, Carolyn Nayematsu, connected me with Roi Kawai, who had attended one of our recent virtual events and works as a Diversity, Equity, and Inclusion (DEI) Coordinator at Minneapolis Public Schools. Roi and I met a few times over Zoom and came up with an outline for a series of four virtual workshops."
The workshops took place between July and September 2020. "We received overwhelmingly positive feedback and had 36-50 participants per workshop representing 12 US states and Canada. This workshop series succeeded in galvanizing a passionate core of TCJACL members to work on social justice topics relating specifically to Black solidarity and also developed partnerships with many local and national groups and individuals who have become invaluable collaborators."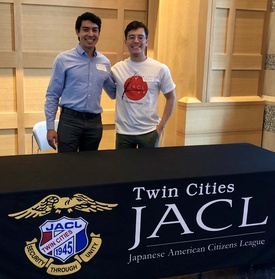 Vini sums up his Minnesota experiences by saying:
"I came for the community but I stayed for the social justice. The TCJACL and in particular some of our elder members like Sally Sudo and Janet Carlson, have always been passionate about connecting parallels between the Japanese American experience and the Muslim American experience. TCJACL has a long history of collaboration with CAIR-MN (Council on American Islamic Relations - Minnesota Chapter) on topics including immigrant rights and facilitating dialogue that challenges the Islamophobia and racism that are pervasive in American society. The Twin Cities have very large refugee communities, including sizable Muslim populations, so there has been no shortage of opportunities for cultural exchange. To many in the TCJACL, the Islamophobic rhetoric that was pervasive after 9/11 directly echoed the wartime hysteria that led to the incarceration of their families in America's concentration camps. Some politicians went as far as to suggest, even in more recent years, that Muslim Americans should be placed on registries or even locked in camps while the threat to America is assessed. The TCJACL is firmly committed to preventing this painful history from repeating itself."


Civil Engineering for Social Justice
Vini and Micaela recently moved back to North Carolina where they bought their first house. It was there, as an undergrad with Black, Hispanic, and Native American peers in NC State's minority engineering program, where Vini had carved out the direction his future career as a civil engineer would take. "It was this exposure to a diversity of views and experiences that really propelled my focus on social justice," wrote Vini.
Vini's childhood enjoyment of playing with water along with witnessing catastrophic flooding while visiting family in São Paulo provided a direction for his chosen career. Vini wrote, "I believe that this sense of needing to improve how man-made cities interacted with the environment, especially in the face of climate change, was a primary motivator in my path toward civil engineering and stormwater management."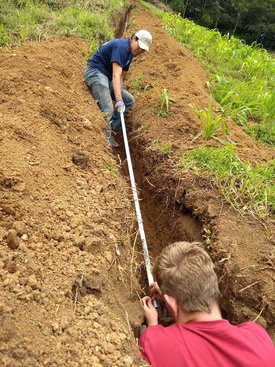 Vini wanted to help communities in greatest need which led to him to Engineers Without Borders - USA (EWB-USA), first at NC State University and then at the University of Minnesota, where he worked on projects in developing nations (Sierra Leone and Guatemala) to develop sustainable drinking water sources.
"What I enjoyed the most about this program" wrote Vini, "was that their project process centered on the community and developing long-term relationships through which we solved problems together, constructed water systems together, and were mutually invested in securing the knowledge and materials for continued operation into the future." It was hands-on learning at its best.
When someone thinks about the work civil engineers do, fighting for social justice is usually not what comes to mind although the two fields have always been inextricably linked. The costs and benefits of every aspect of the built environment, from the location of freeways and utilities to green spaces, have rarely been equally distributed. Vini explained, "historically, racial redlining and other forms of community segregation and divestment by government decision-makers deliberately created areas that were "nice" to live in and other areas that were "not so nice." The underserved communities saw depreciating property values and quality of life. Eventually, many of these communities were exposed to environmental hazards by economically-driven investment that placed undesirable industries in low-income areas."
Righting Wrongs
Here's Vini's assessment:
"There is still much work to be done to right past wrongs, but the Environmental Justice movement has, at least in some areas, succeeded in cleaning up some of the affected communities and improving the quality of life that residents experience. What comes next, however, is the most complicated part. As under-invested areas receive a sudden influx of environmentally-oriented investment, they become attractive to outside investment and suddenly experience tremendous gentrification as new residents who are much more financially well-off begin to move in. The original residents often struggle to resist displacement for several reasons: rising rents, rising costs of living, rising property values that incentivize selling, hostility, or social segregation from newcomer residents, and the list goes on. The painful irony of green gentrification (too much of a good thing leading to a bad thing) has only begun to be acknowledged in recent decades by academics and years by the public at large; affordable housing activists have really been on the forefront of the issue.

"To me, green gentrification has become a daily concern because as I help develop green infrastructure to help communities, I need to do everything I can to make sure that the community I am trying to help is still going to be around to enjoy the benefits of their healthier environment. I have given a number of conference presentations on the topic and written a few articles on the subject, but I am still looking for opportunities to do more."
To read more about Vini's work, click here. And to read more about TCJACL, click here or find them on social media by clicking here or here.