In October 2022, during a trip to Berkeley, California to do research at the Bancroft Library, I stopped in at Eastwind Books. Normally, when I go book shopping, I usually look for copies of older works that are either out of print or unavailable online. Sometimes, by good fortune, I find a book that I have always wanted to read but never was able to purchase online.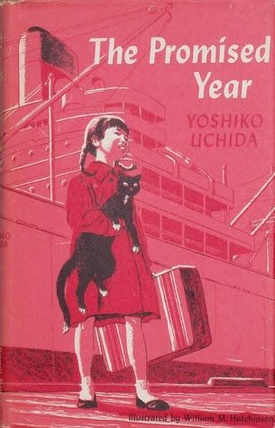 As I rummaged through the dollar cart at Eastwind, I pulled out a copy of Yoshiko Uchida's 1959 book The Promised Year. I have long been intrigued by Uchida's writing career, and I had previously published an article in the International Examiner about Uchida's early struggles as a writer. My friend Brian Niiya had then suggested that I sit down and read one of Uchida's many popular children's novels. Thus, I bought the book and read it on the train ride back to my apartment in Davis.
In brief, The Promised Year centers on the journey of Keiko, a young girl from postwar Japan who is sent by her mother to live with her aunt and uncle for a year in the city of Richmond, California. Keiko travels with her Aunt Kobe by ship to San Francisco. During the long sea journey, she is gifted a black cat named Tama from her Aunt Kobe, who becomes her companion during her time in America.
When Keiko and Tama arrive, her Aunt Emi initially greets her with delight, while her Uncle Henry offers a cold welcome. The tension between Keiko and her uncle reaches a boiling point when Henry releases Tama outside because of his allergies to cats. Scared of losing her cat, Keiko frantically searches for Tama and weeps at not being accepted by Henry.
She later learns that her uncle, a carnation grower, suffers from the stress over the threat of losing his carnation crop to the East Bay smog, and struggles to keep his plants alive until the Christmas sale. In the hopes of improving her relationship with her Uncle Henry, Keiko and her neighbors come together to save the carnation crop and prepare it for early shipment.
Delighted, Henry thanks Keiko for her help, and conducts a tea ceremony as a sign of his acceptance of his niece and her cat, despite being continually made miserable by his allergies to the damned cat! Keiko's leadership in saving Uncle Henry's carnations marks her coming of age as a young woman.
Published in 1959 by Harcourt, Brace, and Co., The Promised Year was well-received by critics. Olga Hoyt wrote a glowing review of the book for The New York Times: "the plot is excellent, with enough zigs and zags to absorb the reader. Miss Uchida expressively chronicles the blending of the ways of East and West as Keiko grows emotionally, learning to love, understand and respect those in her new American home." The Chicago Daily Tribune declared that "Keiko may be Japanese, but American readers will find her a little girl just like themselves in her ups and downs and will follow her warmly told story with delight."
Similar praise was found in a brief review in the Canadian newspaper Edmonton Journal. The Promised Year attracted international attention, and was later published in German under the title Keiko reist nach San Francisco by the publishing house Erika Klopp Verlag in 1962.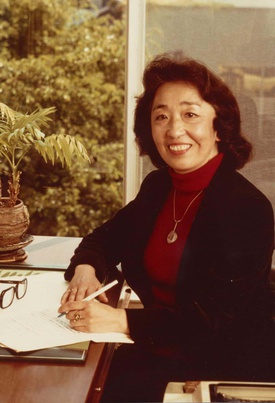 Yet besides being enthralled by the telling of a Japanese schoolgirl's journey across the Pacific and grander hopes of improving transpacific relations, I was fascinated to find out that Uchida's novel also draws from a real family's struggle growing carnations in Richmond. On the reverse of the title page, Uchida penned a one sentence acknowledgement:
"My thanks to Mr. Joe Oishi who taught me many things about carnation growing at his nursery in Richmond, California."
The inspiration for Uchida's character Uncle Henry, Oishi was the proprietor of one of California's largest carnation nurseries, one that supplied national flower sellers.
Born on August 8, 1911, in Richmond, Joe Oishi was the son of Seizo and Riu Oishi, who started the carnation nursery in 1908. According to the Richmond Art Center's board president Matthew Matsuoka, families like the Oishis entered the carnation business because it provided quick returns during the holiday season.
After attending Richmond Union High School, Oishi entered Armstrong Business College in 1930. Following his graduation in 1933, he began managing the family carnation business. In July 1937, he was named as Richmond's representative to the Northern California Junior Floricultural Society. At the same time, he became active in the Oakland chapter of the JACL, and helped with running membership drives in Richmond.
In March 1942, following the announcement of forced removal under Executive Order 9066, Oishi and his family decided to lease out the family nursery. Like other families from the Bay Area, the Oishis were confined at Tanforan and then sent to Topaz concentration camp in Utah. Because of his background in farm work, Joe Oishi found employment there as a seasonal farm laborer.
In May 1943, Joe married Masako Matoi, a former resident of San Francisco, and in June the couple had a baby boy. In August 1943, Joe and Masako Oishi resettled in Maywood, Illinois, where they stayed until the reopening of California to Japanese Americans in 1945. After the war, they family returned to Richmond.
Unlike other Japanese American-owned nurseries, which flourished under the care of neighbors during the war, the Oishi nursery had been converted into a hostel for shipyard workers, and so there was little in the way of capital for its reconversion. Nevertheless, the Oishis and their neighbors, the Sakai family, were able to rebuild their businesses in the years following 1945, even as most Japanese American nurseries in the East Bay ceased to exist following the incarceration.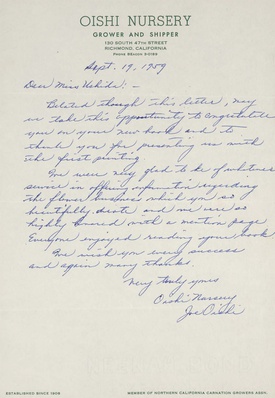 In the postwar years, the Oishis' business continued to thrive. At some point, around 1958, Yoshiko Uchida approached Oishi to learn more about the carnation business, as part of her research for The Promised Year. According to Uchida's papers, the two did not correspond much. Still, following the novel's publication in 1959, Joe Oishi sent a letter to Yoshiko congratulating her on a well-written story. He also thanked her for acknowledging their help and for her gift to them of a copy of the book.
In later years, Oishi's nursery struggled. By 1986, the Oakland Tribune reported that several other nurseries had closed, due to the construction of Interstate 80 and the growth of international competition in the flower business, and that Oishi's nursery was the last remaining in Richmond.
By 2006, when the ailing Oishi closed the doors to his nursery and sold the property to the city of Richmond, it stood as the last of all Japanese American flower businesses in the East Bay Area. Three years later, in May 2009, Joe Oishi died at the age of 97.
In spite of its closure, the legacy of the Oishi Nursery lives on. A year after Oishi's death, SFGate profiled the Oishi family business in connection with an exhibit on local Japanese nurseries held at the Richmond Art Center. Rafu Shimpo's J.K. Yamamoto also spotlighted the history of Richmond's Japanese American flower growers and noted a documentary film produced as a result of the 2010 exhibit. Titled Blossoms and Thorns, the film was produced by filmmaker Ken Kokka and historian Donna Graves in 2012 and was later screened at the Japanese American National Museum.
Perhaps the greatest testament to the importance of Oishi's flower business, though, is its dramatization in Uchida's The Promised Year. Although the story centers around family conflict and a girl's desire for acceptance, and the history of wartime exclusion and confinement of the Japanese American nurseryman and his family remain unmentioned in the work, The Promised Year not only attests to Uchida's talent as a writer of fiction, but her skill as a documentarian of Japanese American life in the Bay Area.