In January 1925, Comoedia magazine reported that Yoshinori Matsuyama would be leaving France and returning to his native country for an extended period to research "characteristic scenes of ancient Japan" for future presentation in France by a new company of singers, dancers, instrumentalists, and mimes, as well as to present French works to Japanese audiences. The critic noted:
"Mr. Matsuyama has written works whose harmonies are entirely based on the koto scale, whereas the modern Japanese school tends rather to abandon its own originality in order to imitate European harmonization… If Mr. Matsuyama pursues his plan to organize performances here next year, he mainly proposes to give an exact idea of ​​the use that our composers could make in their orchestra of the sounds of the koto, the sliamicen (sic)."
While he would visit Europe once more, Asia would henceforth be his home base.
Yoshinori Matsuyama returned to Japan in 1925, after a nearly ten-year absence, and thereafter organized a round of performances. For example, in August 1926 he sang a solo on a program on radio JOBK in Osaka. However, he found more congenial circumstances performing for Western music lovers in the foreign concessions in Shanghai.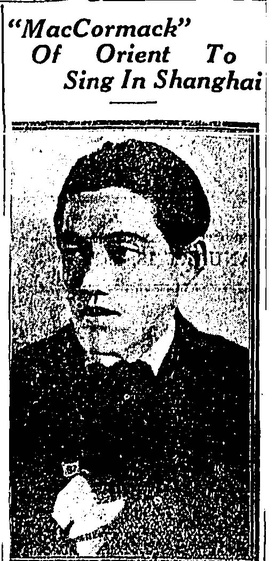 In January 1927, he opened an engagement at Shanghai's Carlton Café, which described itself as a vaudeville tea dance establishment. Billing himself as the John McCormack of the orient (in homage to the Irish operatic tenor turned popular music singer), he sang his own song "Sakura" plus selections such as "Coming Through the Rye." In September 1927 he presented a recital at the Japan Club in Shanghai that mixed opera arias from Carmen, Tosca, Rigoletto and I Pagliacci, with popular Italian ballads and selections from his own Japanese songs.
In December 1927 Matsuyama opened a cabaret act at a new club called The Plantation, gave another recital at the Japan Club, and sang a pair of songs on radio station NKS. On New Year's Eve 1928 he was a surprise guest at The Plaza. In January 1928, he performed as a soloist with the Shanghai Municipal Orchestra, where he sang baroque Italian songs. Critic R.R.L.F. writing in the North China Herald, commented, "Possessing a comparatively small voice, his innate artistry and an eminently sound method impart a most gratifying quality to his singing."
Sometime in 1928, Matsuyama returned to Japan. Around this time, he opened the Matsuyama Music Studio in Tokyo, and concentrated thereafter on his pupils, but still maintained a schedule of performances. In September 1928, he sang a recital at Nihon Seinenkan, and he followed with another in March 1929. (This second concert was notable in that it featured accompaniment not only by piano but also shakuhachi).
In October 1930, after visiting Europe and the United States to study and perform, Matsuyama returned to Japan and performed another recital at Nihon Seinenkan. Around this time, he married star pianist Chieko Matsuura, who taught at his school and worked together with him. The next years, he made occasional performances.
In May 1931, he served as guest star at a performance of Sei Takata dance company, singing a solo. In March 1933, he starred as the Duke of Mantua in an unusual production of Verdi's Rigoletto at the Asahi Kaikan hall in Osaka commissioned by the Asahi Shimbun newspaper. In 1934 he made a recital tour of Manchukuo (the then-Japanese puppet state in Manchuria) with his wife accompanying him on piano.
Much of his time was taken up with teaching, organizing recitals with his pupils, and staging and coaching duties. In 1934 he directed the chorus in the Fujiwara Opera company's production of Puccini's La Boheme. In December 1935, he organized a concert of the Nagoya Symphony with opera singers Maria Kousnetzova and Yoshie Fujiwara. In January 1936, Matsuyama hosted a recital at his house in Tokyo by 14 year-old Nisei violinist Kazuko Tajitsu.
At this point, circumstances combined to bring Matsuyama back to the West Coast of the United States, from which he had been absent for over twenty years. First, in April 1937 the famous blind-deaf writer and activist Helen Keller arrived in Japan for what would be a well-publicized goodwill tour. Following Keller's visit, the Osaka Light House, the Osaka Asahi, and the Japanese Light House organized a visit of Japanese to offer thanks to Keller for her visit.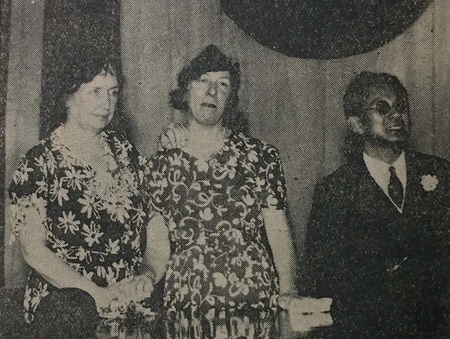 Matsuyama, a singer whose name was familiar to many Americans and whose rise had been aided by Japanese American communities, was a natural choice as an envoy. The Japan Lions Club also endorsed his trip, and a few record companies expressed interest. The semiofficial nature of his trip was also made clear by its selection as a "friendship tour" and the participation of Japanese consulates in making arrangements. Matsuyama had his own personal reasons for accepting. He mentioned to Rafu Shimpo that he hoped to sing in a production of Rigoletto with Nisei singers—drawing on his experience with Tajitsu and other Nisei, he praised the talent and intelligence of the second generation. He also dreamed of organizing Nisei singers to make a recording of Robert Planquette's operetta, "Les Cloches de Corneville." Matsuyama planned to make the visit in the fall of 1937. However, Japan's invasion of China in September made a delay inevitable for any goodwill trip. At the same time, Matsuyama and his wife Chieko announced their divorce. Soon after, he married a new wife, Kimiko, a pianist who was then just 20 years old. He decided to transform the visit into a honeymoon trip.
Finally, in April 1938 Matsuyama and his new wife arrived in Seattle. There they met up again with Kazuko Tajitsu. Matsuyama also had a connection to the Seattle Japanese language school, whose principal Yoriaki Nakagawa had created a school song with music by Matsuyama. Within days of his arrival, Matsuyama kicked off his tour with a benefit concert sponsored by the Japanese American Courier. Soon after, on May 7, he appeared at a social, where he was the guest of local consul Sato. The next day he was invited to sing songs at a local Buddhist Church.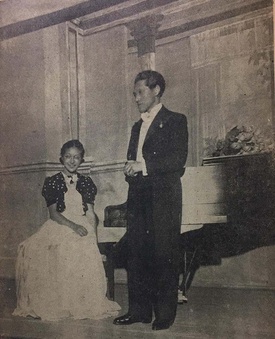 Matuyama stayed in Seattle for three months (with a stopover in Vancouver, BC, where he gave a well-received a concert). In summer 1938 he arrived in San Francisco, his first visit in 23 years. On August 12, accompanied by Nisei pianist Florence Takayama, he sang before a capacity crowd at the Gyosei Hall. The event was a rare community-based concert, and was sponsored by both the city's Japanese dailies, Nichi Bei and Shin Sekai, plus other groups including the Japanese Press Club, the Japanese Literary Association, and the Kagoshima Kenjin Kai. Matsuyama's program ranged from operatic selections from Tosca, Madama Butterfly, Faust, and I Pagliacci to his own compositions. At the formal request of the Japanese government, he sang the patriotic march song, "Aikoku Koshinkyoku." According to the San Francisco Examiner, the pair also entertained soon after at the San Francisco Brunch Arts Club.
In October 1938, Matsuyama toured Southern California. On October 6, he performed in Los Angeles before a crowd of 500 at the Union Church, in a concert sponsored by the Los Angeles Japanese Musician Association. He was acccompanied by a UCLA music student named Teruko Hirashiki. His program included operatic arias, lieder, several songs by Kosaku Yamada as well as his own compositions. He also performed arias on a music program on radio KRKD. He even made an appearance before a crowd of several hundred at the Los Angeles Meta-Physic Institute.
On October 21 he performed a concert at the Buddhist Hall in Sacramento, sponsored by the local JACL. He thereafter played a concert in San Diego. During this time, he composed a new piece, "San Diego Ondo", and made a record for sale by Japanese community outlets.
After the West Coast of the United States tour concluded, Matsuyama travelled to New York. During his visit, he appeared a special concert in honor of Dr. Jokichi Takamine, his onetime patron. He also visited Helen Keller at her home in Westport, CT. He left the United States in March, and following a stop in Europe he returned to Japan.
During his tour, Matsuyama received widespread coverage from the Japanese American press, which had helped sponsor his concerts. Coverage in the mainstream press was respectful but spotty, and no music critics reported on his performances. However, after it closed, he attracted significant negative publicity.
In February 1940, Rafu Shimpo reported that Matsuyama had denounced Japanese in the USA. A columnist in Shin Sekai reported Matsuyama as complaining that Japanese in the US who came to his concerts were not educated. Instead of appreciating his music when they attended his concerts, they would request that he sing stupid popular love songs. News of such sentiments infuriated Japanese Americans, and the ethnic press ceased to report on Matsuyama.
Matsuyama's frustrations with his audience during his North American tour, and the unrealized plans to sing opera, may have reflected the diminishing of his voice. Following his return to Japan, he only performed in public a handful of times—he may also have been a victim of wartime Japanese backlash against Western music. In December 1939, he performed a last recital at Tokyo Meiji Seimei Hall. In 1943, he sang a joint recital at the Sangyo Kaikan with his pupils, including some of his own works, and that same year gave a recital of Italian arias sponsored by Karatachi Association.
His last recorded appearance was at the recital of soprano Kyoko Kanno in Tokyo in 1949, where he joined her in singing duets. In later years, Mastuyama gained attention as an opera director at Hibiya Hall. In 1950, he directed a production of Mascagni's Cavalleria Rusticana for the Nippon Music School, and directed the Masuda Opera Company's performance of Verdi's La Traviata. Two years later, he directed the Masuda Opera Company's performance of Bizet's Carmen. He continued to teach singing. He died on June 17, 1974.
Yoshinori Matsuyama gained acclaim in his early years for his performances as the Japanese Caruso who was equally at home doing opera arias or classic ballads. Whle he was unable to repeat the level of praise and acclaim he received in his youth when he returned a generation later, he did help wake Japanese Americans up to the possibility of entering the field of classical music.